March 27, 2020
5 Apps to Help You Stay Positive
Uncategorized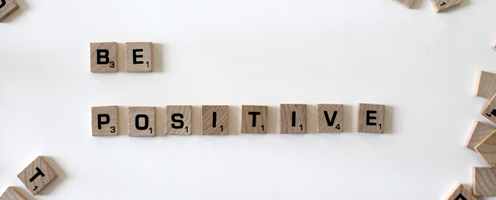 In these uncertain times, it's easy to feel stressed or distracted. However, taking some time out to look after your mental wellbeing can help you to feel calm, productive and focused—both at work and home.
There are a number of apps on the market that use various techniques to keep us feeling positive and motivated, from mindfulness and meditation to playing games and tracking our emotions. In this article, we take a look at five of them in a little more detail.
Calm
Calm was voted the 2017 iPhone app of the year, and offers guided meditations that help you to recognise negative thoughts and replace them with positive ones. Users are encouraged to meditate daily and can set a specific time for the session to last, and there is also a "meditation calendar" that can help you to maintain a regular practice. Upon downloading the app, users are given a free one-week trial with daily sessions to help you relax and refocus your attention.
The app offers a huge range of options to help you work towards many different goals, from reducing anxiety to letting go of stress. It also features Sleep Stories, which are read by celebrities such as Matthew McConaughey and Stephen Fry and designed to help you get to sleep more easily.
Happify
Happify describes itself as "the single destination for effective, evidence-based solutions for better emotional health and wellbeing in the 21st century." It aims to help you achieve goals in different "tracks" or areas, such as coping with stress or conquering negative thoughts, by changing your thought patterns over time.
After taking a short quiz, the app will suggest some appropriate tracks to follow. Users are invited to play games, do guided meditations and complete writing tasks that are all designed to increase levels of happiness and optimism.
The app encourages you to focus on the positivity in your life and enables you to record your feelings of happiness over weeks and months. This helps you to recognise patterns and improvements in your emotions, with 86% of users agreeing that they felt happier after using the app regularly for two months.
Simple Habit
Simple Habit was created by Yunha Kim after previous roles as an investment banker and a startup founder left her feeling exhausted by her stressful lifestyle. The app is designed to relieve stress for busy people who may feel that they don't have the time to dedicate to a long mindfulness practice.

Instead, it offers a range of guided meditations in five-, ten- or twenty-minute sessions that are designed to fit seamlessly into your daily schedule. The app features some specific meditations to improve your performance at work, including 'staying present in a meeting' and 'enhancing your workflow.' The diverse meditations are led by a range of professionals, from psychologists to former monks.
Skills – Games to Cope with Stress
Skills features 13 games that aim to increase stress tolerance and improve mindfulness. The games are based on the research of Dr Martin Bohus, a leading psychotherapy researcher in behaviour therapy, and offer fun and unusual ways to beat stress.
In one of the games players pop bubbles that appear on the screen, and in another you have to tilt your phone to make a ball fall onto the level below. The games are all designed to help with a different aspect of mental health, and new games can be unlocked as you continue to use the app. A clinical study has shown that the games were helpful in combatting stress for 82% of participants.
Ten Percent Happier
Ten Percent Happier was created by Dan Harris, an American newsreader who started meditating after he had a panic attack on national TV in 2004. He describes the app as "meditation for fidgety sceptics" who want to explore mindfulness but are looking for a more down-to-earth approach.
The app offers guided meditations in both video and audio form and covers a variety of topics, from how to improve your performance at work to parenting and relationships. The meditations are designed to fit easily into your daily life and include sessions called "tooth brushing" and "in the shower", and you can set up reminders on your phone to remind you to practice regularly. In these uncertain times, it's natural to worry about other people and commercial matters but do take the time to look after yourself as well.