After starting golf at the relatively old age of ten, Fame Tate worked hard at her game and was soon playing for England and then Great Britain. The peak of her amateur golf career was appearing for Great Britain and Ireland twice in the Curtis Cup, competing against 2010 US Women's Open champion Paula Creamer.
After a successful amateur career, Fame decided to turn professional, and at the La Cala Resort in Spain she performed well at Qualifying School and won a place on the professional golf tour. She played on the Ladies European Tour and Asian Tour for five years before a serious injury forced her to take a break from the game.
Fame recalls,"I was in Munich warming up on the practice range for the German Open. Hitting balls was really painful – I knew something was definitely not right". Unfortunately Fame had arthritis in her right shoulder that led to a series of complications.
A New Direction.
Due to her injury, Fame was granted a two-year medical exemption from the golf tour but after two surgeries and two years without playing she decided to retire from professional golf. It was a difficult period for Fame, but she put the time out injured to good use, completing two courses with the Open University: one in Business and Events Management and one in Fitness Management.
Her next step was into business; Fame worked all over Europe helping to run high-profile corporate golf hospitality days. Although she enjoyed the work she couldn't resist getting back on the golf course – this time as a coach. She says, "It's funny how you gravitate back to what you know, after retiring I thought I'm not going to want anything else to do with golf again. But golf has been my life, and I've come back to it."
She started her coaching journey at Tapton Park, coaching women and juniors – something she found immensely gratifying, "I enjoy watching the improvements people make. They start and they're struggling to hit the ball, but they make quick progress – that's very satisfying."
While working at Tapton Park, Fame completed the PGA Foundation Degree, which covers many aspects of running a golfing operation: coaching, equipment and the business-side are all covered.
After a successful period at Tapton Fame coached at various clubs and was an ambassador for Derbyshire Golf. This role was important to her, as it was here that she became heavily involved in various grassroots golf initiatives, "I feel very privileged – I've travelled the world playing golf, and I've always felt strongly about giving something back."
But there was something missing.
A Vision Starts to Develop
Having developed her skills as a coach and completed the PGA qualification Fame wanted to use her experience to put her stamp on something.
A vision started to evolve. She says, "I developed a feeling of what I wanted a golf club to be. I wanted a club that was affordable, accessible, friendly and fun – all surrounded by a warm and welcoming environment. The vision was about getting people engaged with the game, rather than make them feel intimidated."
Fame wanted a club that challenged some of the stereotypes of stuffiness and elitism, instead welcoming everyone to come and learn to play golf.
This Is It With years of experience, a clear vision and a strong passion, Fame was ready when an opportunity arose. She recalls hearing about a local golf club being put up for sale, "In December 2018 an email was sent to members of Stanedge Golf Club telling them it was going to be sold. When the opportunity to buy the club came around, it felt perfect for my vision."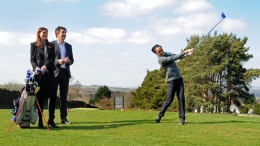 Stanedge Golf Club sits on the edge of the Peak District with stunning views, a nine-hole golf course and a clubhouse. After visiting the course and meeting the previous owners, Fame sensed it was a good fit, "it felt right, although I visited the club on a miserable day, as soon as I stepped out of my car and had a walk around I thought – this is it".
Making the Leap
Working with Alan Laslett of Real Property Finance Fame looked for financial backing to make purchasing the club a reality. There were a few factors that made traditional bank financing challenging:
The underlying asset (i.e. the golf course) was difficult to value. The marketplace for golf courses is small, and with fewer potential buyers it was more difficult to set a valuation for the asset.
There were no management accounts and subsequently no evidence that the debt could be serviced.
It was essentially a start-up business from a new entrepreneur, another risk in the eyes of traditional lenders.
These traditional lenders were amenable to the deal once some accounts could be shown, but this would take at least six months. It seemed less and less likely that the deal would go ahead.
The Value of a Strong Team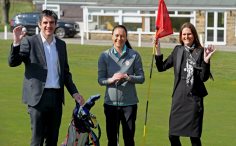 Fortunately, Real Property Finance has a strong reputation for getting deals completed for its clients and Alan believed in Fame – he just needed a lender that was willing to back the new business.
Alan approached Reparo Finance to discuss the possibility of a loan. The plan was to use a loan to purchase the course and then after six to twelve months of successful loan repayments go back to the bank and refinance.
Alan says, "Because Fame was let down at the last minute we needed to put financing in place quickly. I knew that Reparo was a flexible lender that would take time to look at Fame's proposition and if it was comfortable would move fast to complete the deal."
Sharon Bryden at Reparo took the initial call from Alan and immediately started to review the deal. She says, "The first step was to meet Fame and hear her story, we drove down to the golf course and had a meeting. It became clear that Fame was a passionate and knowledgeable entrepreneur with a strong plan. Also, we could see the asset she was using to back the loan had strong value."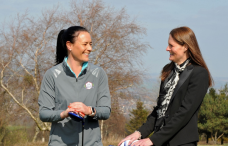 After meeting Fame, completing due diligence and working through the agreements, Reparo was ready to provide the loan that allowed Fame to buy Stanedge Golf Club.
The Future
With the deal secured Fame was able to get to work, "The hard work starts now. I feel like we're spinning a lot of plates, but it's great – I'm living, breathing and sleeping the business but it helps to have an excellent team that I trust."
Her priorities for the next twelve months are:
Make the Clubhouse a place people want to spend time in: This involves renovations (including a makeover of the toilets) and ensuring catering is at an excellent level.
Get the course in great condition: Making sure that the course looks and plays to the best possible level – Fame has been out with the hand mower setting the standard.
Build a great team: Ensure that there is a team in place to drive the quality service that is required.
Build the brand: Make sure that the course is attractive to casual golfers, prospective members and golf societies.
Key Partners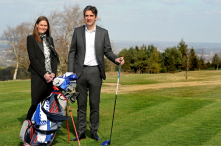 Fame is the driving force behind this vision but is quick to acknowledge the help that Alan at Real Property Finance and Sharon at Reparo provided to help make her vision a reality:
Fame on Real Property Finance:
"Alan was brilliant. He was personable and very straightforward. I trusted him to find the best financing solution. He worked hard to find the right lender and ultimately put us in touch with Sharon at Reparo."
Fame on Reparo Finance:
"Sharon and her colleague Andrew visited me at the club, on the most horrendous day imaginable – the rain was coming sideways – and they were great. I immediately felt comfortable with them. They understood what I was trying to achieve and they quickly agreed to fund the purchase. From there it was plain sailing – they delivered on their promise to get the deal completed quickly." We wish Fame the best of luck for the future; next time we're in Chesterfield we'll pop in for nine holes and a bacon sandwich.