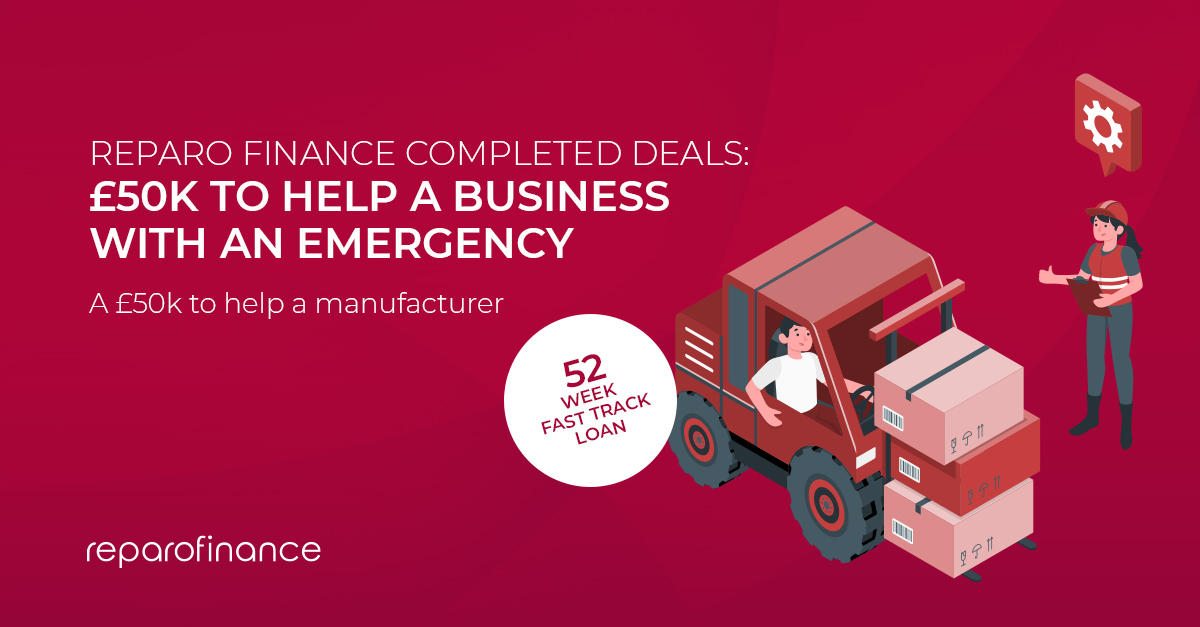 December 21, 2019
Reparo Finance Completed Deal: £50k to Help a Business with an Emergency
Unsecured
Deal Type: Working Capital
Loan Amount: £50k
Loan Type: Fast Track 52-week loan
Security: Personal Guarantees
Region: South West
Reparo helped a manufacturer work through difficult circumstances when bank funding wasn't available. The business was already a Reparo client and needed additional working capital to repair broken machinery.
Due to the recent incorporation of the business, lack of security and other outstanding loans, bank funding wasn't an option. Having built a relationship with the business, Reparo was happy to take a closer look and determine whether it could provide lending.
A single personal guarantee from the owner wasn't sufficient security for Reparo to extend terms, but a family member of the main shareholder was willing to provide a personal guarantee, and this provided the security required to get the deal completed.
Reparo director Sharon Bryden was pleased they were able to find a solution:
"We trusted the entrepreneur involved and wanted to provide a lending solution. Unfortunately, the personal guarantee wasn't sufficient, so we looked for alternative options to get the deal completed.
Fortunately, a family member with sufficient assets was able to provide a personal guarantee, and we were willing to use this as security.
I was delighted to find a solution. Unlike some lenders, we don't just operate a box-ticking approach to lending, we try to understand the business and work with the entrepreneur to find a solution."
Managing Director Andrew Ward was equally pleased:
"In the current climate, it's really hard for businesses to access funding. In this case, we had a competent entrepreneur who had some bad luck. At Reparo, we will do everything we can to find a solution – in this case, we worked with the entrepreneur and found the security that was necessary for the deal.
This type of deal is what we pride ourselves on – going that extra mile to find a solution and helping entrepreneurs get the cash required so they can concentrate on running their business." To discuss a loan between £10,000 and £1m, please get in touch with one of the team on sales@reparofinance.co.uk  or 0161 451 5710. You can find out more about us on our website:  www.reparofinance.co.uk