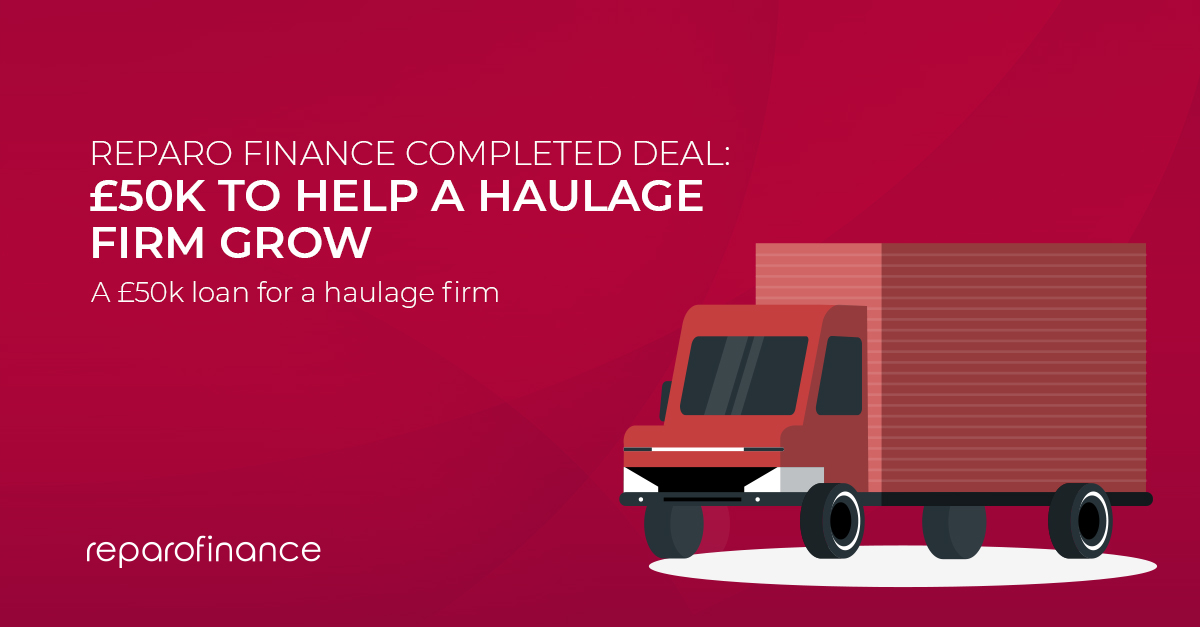 February 20, 2020
Reparo Finance Completed Deal: £50k to Help a Haulage Firm Grow
Unsecured
Deal Type: Working capital for growth
Loan Amount: £50k
Loan Type: FastTrack
Security: Personal Guarantee
Region: South
In 2018, a haulage firm was purchased by new owners whose primary goal was to grow the business. One of the biggest challenges facing the firm was its sizeable cash flow gap as a result of costs increasing when gearing up for a major new client, and the time lag before the contract came fully on stream.
Enter Reparo.
The firm knew visiting traditional banks for a loan wasn't the best approach for several reasons:
In addition to being a small business, the owners had recently purchased the company and had no published accounts.
Fixed asset security was not available.
Traditional lenders are likely to take a long time engaging in due diligence processes and the cash was needed quickly.
As always, Reparo was keen to delve deeper to provide a lending solution. The team organised a meeting with the owners and learnt about their past success in business. Additionally:
The company had generally been successful to date.
A solid business plan was in place.
Those working in the business had a wealth of experience in the haulage sector.
The owners were homeowners and provided a personal guarantee.
Overall, the Reparo team felt the business was fundamentally strong and unlike the banks, it was happy to work with the existing criteria. Reparo agreed to lend the haulage firm £50k to fuel its growth.
Reparo managing director Andrew Ward said: "When we met the firm's owners, it was clear that they had existing business experience and past success. We sat down together and looked at the business plan—as a result, we were very happy to provide the lending."
Reparo business development manager Liam Killen said: "As a small business, it can be difficult to manage cash flow successfully. Despite this challenge, we saw that the company had been successful overall. It was great to help new business owners to expand their business."
To discuss a loan of between £10,000 and £1m, please get in touch with one of the team at contact@reparofinance.co.uk or on 0161 451 5710.