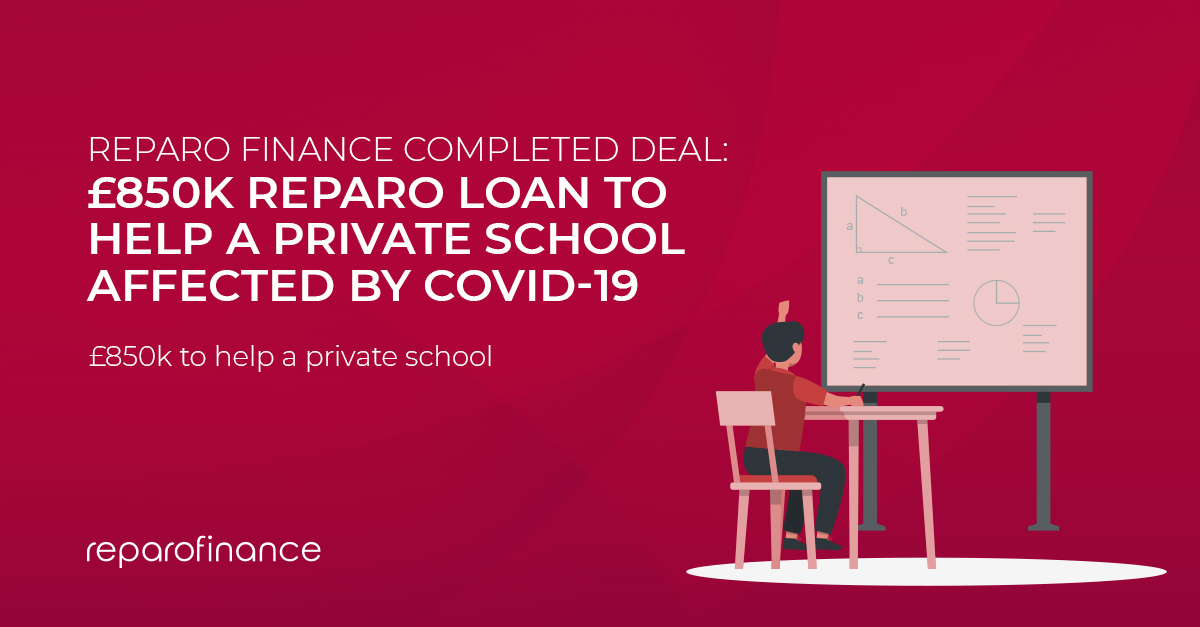 September 18, 2020
Reparo Finance Completed Deal: £850k Reparo Loan to Help a Private School Affected by COVID-19
Secured
Loan Amount: £850k
Loan Type: Working Capital
Security: Land
Reparo Finance provided an £850k cash injection to help a private school that was in financial difficulty due to the COVID-19 crisis.
The Challenge
When the national lockdown happened in March, the school was forced to close and as a result, faced a reduction in its cash flow. It was planning to sell some land it had obtained planning permission on, but there were several challenges:
The sale was delayed due to the pandemic, meaning the school needed to access working capital fast.
Planning permission was due to run out on the land which was going to be the primary security.
There were many different stakeholders, including new school management and a large board of trustees, all with different priorities and questions.
Completing the Deal
Although this was a complicated situation, Reparo were able to complete the deal. First, we visited the site to speak to the leadership team and the trustees to understand their position.  We also arranged for the land to be valued and the planning permission terms reviewed.
Many more Zoom calls were scheduled with the trustees and the management to make sure everyone was comfortable with the deal before proceeding.
As with all Reparo loans, our team took the time to understand the client's unique business model and looked at projections rather than current figures, since the school has not been trading since March.
It was immediately apparent that it had concrete plans for how it would spend the money and pay it back, as well as a new experienced management team.
Reparo had the planning permission reviewed and was able to agree a strategy with the client to protect both parties. This was a critical step in putting the deal together, and only possible due to the experienced and fast legal team Reparo work alongside.
Reparo was delighted to be able to help the school keep trading during such challenging times, and the loan will allow them to move forward with certainty towards their reopening in 2021.
Reparo relationship manager Jason Cossey was pleased to get the deal completed:
"The multiple stakeholders and trustees with different priorities and opinions made reaching an agreement challenging, but we were able to align all parties and agree on a deal.
Many lenders would have been unwilling to provide a loan due to the school's current lack of revenue, but we could see it was a healthy business proposition due to its strong new team and robust plans. We were thrilled to help the school access the working capital it needed and look forward to seeing it reopen in 2021."
Brian Phipps the MD of Micro Consulting worked alongside Reparo on the deal and said:
"Reparo were the perfect lender for such a complex situation. They worked closely with my client to understand their unique circumstances and showed flexibility in finding a solution.
With a large number of stakeholders and challenges around asset valuation, this was not a simple process. Reparo were unwavering in their support and nothing was too much trouble for them during the lending process."
If you'd like to discuss a loan of between £25,000 and £2m, get in touch at contact@reparofinance.co.uk or on 0161 451 5710.