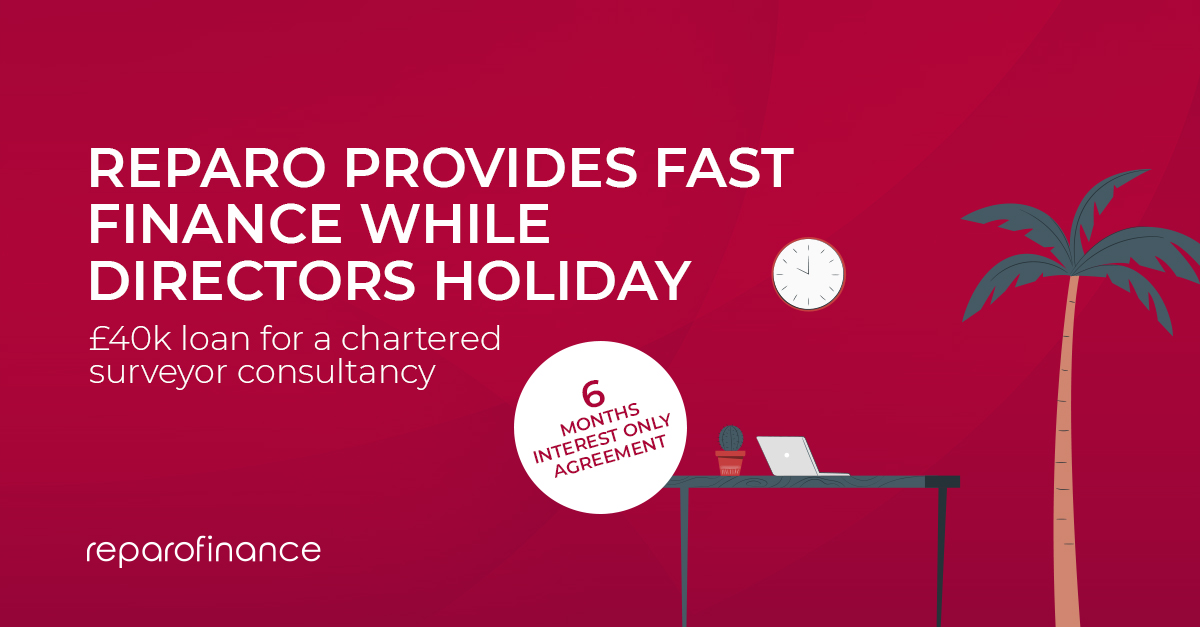 June 30, 2021
Reparo Provides Fast Finance While Directors Holiday
Unsecured
We recently funded a chartered surveyor consultancy with short-term working capital to meet urgent financial obligations—all while the company's directors were away on holiday.
The company specialises in supporting the education sector and has a number of local authority clients.
Due to COVID-19, one of the company's clients had delayed paying some critical funding at the last minute.
This resulted in a short-term cash flow issue and the company could not meet urgent financial obligations.
The consultancy would have been a good candidate for a Bounce Back Loan just a few months ago. However, that loan scheme had ended and the company needed to find other sources.
They approached us for a £40k fast track loan that would be repaid over six months.
The company was a good fit for our services. The small business is run by a husband and wife team who are professionally qualified and have been in business for over 40 years. The company also had good accounts and few outstanding debts.
The application was complicated by the fact that the husband and wife that ran the business were away on their 50th wedding anniversary. The trip had been planned for years and neither wanted to miss it.
We were able to communicate with all parties involved, arrange the loan application and complete the legal requirements remotely while the couple enjoyed their holiday stress-free.
We were able to provide the funding in just three days, allowing the company to meet its obligations.
At Reparo, we know that emergencies can come up at any time—even when you're on holiday. As a small team, we are able to work flexibly to ensure that you get much-needed funds quickly and with minimal fuss.
If your business needs a fast, accessible loan between £25,000 and £1 million, get in touch with one of our team today.
Daniel Jones
07824 873 358
dj@reparofinance.co.uk
Gurinder Mandir
07805 737 324
gm@reparofinance.co.uk
Craig Ashton
07917 907 931
ca@reparofinance.co.uk