September 30, 2021
The Supply Chain Crisis Explained
Uncategorized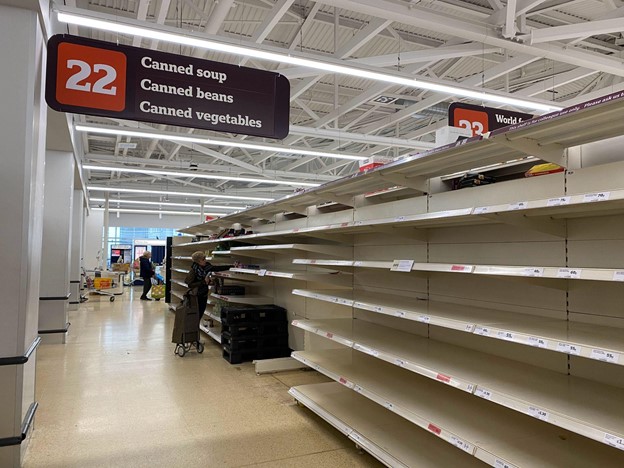 Long queues at petrol pumps, empty supermarket shelves and rising costs.
Supply chain issues have hit the UK hard over the last few months and the impact is being felt by businesses.
Since mid-July, UK GDP has grown by just 0.1% due to shortages of workers and a lack of materials.
Certain industries have been particularly badly affected.
For example, the UK car industry could see 100,000 fewer cars built this year due to a shortage in semiconductors.
Meanwhile, construction has seen the cost of materials increase at the fastest rate since the 1990s due to supply chain issues.
The root cause of the crisis is complex; some media outlets are pointing to Covid-19, while others suggest that Brexit is to blame.
Whatever the cause, the following issues are directly impacting businesses across the country:
Suppliers Are Tightening Terms
The difficult economy means suppliers are reducing their customers' credit facilities.
This helps shore up their business by getting cash in the bank and reduces the amount of bad debt they incur if a customer goes out of business with unpaid invoices.
However, it's bad news for customers who may have to pay for some or all of their stock upfront.
That's because most businesses walk a tightrope when it comes to cash flow. They have to balance paying suppliers with collecting debts from their own customers.
For example, retailers normally pay for stock on credit and aim to sell a large percentage of it before the suppliers' payment is due.
This means that having credit terms withdrawn can create a cash flow issue, force them to dip
into reserves or look for additional working capital.
New Suppliers Are Hard to Find
Many suppliers are also refusing to take on new accounts. This could be due to a lack of available stock or because they don't want to extend credit to new customers that they perceive to be risky.
This comes at a time when many businesses are seeking new suppliers.
That's either because their suppliers have gone out of business, failed to provide enough stock or withdrawn the customer's credit.
Long Lead Times
Even if a business has a supplier and can order stock, many are experiencing long lead times.
There are many reasons for this, some of which include issues relating to Covid-19 or Brexit and a shortage of certain goods or materials.
The shortage of HGV drivers is also having a significant impact. According to the Road Haulage Association (RHA), the UK is suffering a shortage of around 100,000 HGV drivers.
Shipping Costs
Some companies have reported a seven-fold increase in the cost of shipping. This is largely due to the pandemic putting pressure on usual shipping lines.
Staff Shortages
The supply shortage is being fueled by a vacancies crisis—and that's not just HGV drivers.
A report by Grant Thornton says that there are around 1m job vacancies in the UK. Around half of all these vacancies are in the food and drink industry.
If businesses don't have enough staff they may be forced to reduce operations, meaning they can't deliver products and services.
Reparo Can Help
The supply chain issues described in this article put SMEs in a tough position.
These challenges reduce their cash flow, force them to dip into reserves and make it harder to service existing debt.
Many businesses are forced to seek finance to solve these problems.
Unfortunately, mainstream banks often perceive these businesses as too risky and low-value to support.
This is where Reparo comes in.
We provide commercial loans between £25k and £1m and will consider any application.
We know that the last 18 months have been hard on businesses. That's why we look past financial statements from this period and cash in the bank when making decisions.
Instead, we take the time to meet business owners, understand the company and offer a solution that works.
We also provide a Fast Track option up to £50k for urgent requirements.
Helping a Builders' Merchant Overcome Increased Supply Costs
We recently helped a builders' merchant  overcome short-term cash flow problems caused by supply issues.
The business had been forced to switch to a new supplier.
The new supplier offered less generous credit terms and its prices were 35% higher.
The builders' merchant had also wanted to buy additional stock to make up for the shortfall accrued during lockdown. The business had to pay cash for this as it exceeded its credit facility.
As a result of these issues, the company found itself in need of extra working capital.
The business owners knew that the bank would not support them, so they came to Reparo.
We could see that the supply issues the company faced were not its fault. The business was well managed and would easily sell the stock and repay the loan.
We provided a £50k Fast Track loan to support them with stock and running costs.
To discuss a commercial loan between £25,000 and £1m, email the team on contact@reparofinance.co.uk, or call us on 0161 451 5710.
Daniel Jones
07824 873 358
Gurinder Mandir
07805 737 324
Craig Ashton
07917 907 931
Photo by John Cameron on Unsplash
link to come