October 16, 2020
Valuations, Zoom Calls and Lots of Creative Thinking: A Day in the Life of Reparo Business Development Manager Daniel Jones
Uncategorized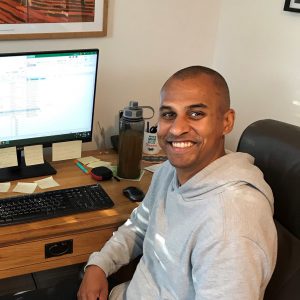 Brokers tend to be interested in how we make decisions. We try to keep everything as transparent as possible and always explain our decision-making process, but we've decided to go one step further.
We've asked Dan, one of our business development managers, to keep a diary of a typical day— read on to learn how we approach challenging deals, see what Dan's day looks like and find out why he knows more about Mr Bean Cartoon World than your average adult.
Over to Dan…
06:50 I reach over to switch off my alarm.
07:00 I switch on Netflix and wake up my son, Theo. He starts his day with an episode of Mr Bean Cartoon World. I spend a minute wishing I could, too.
07:09 Theo asks why I'm still watching, so I head off for a shower. After breakfast, I turn on the computer and start reading my emails. I respond to any enquiries from brokers and take the opportunity to chase down valuation reports or bank statements to get things moving and ensure that my requests are on the top of their pile.
08:15 I drop Theo at school. Once I get back, I have a look at my to-do list and catch up with a few brokers before the calls start coming in.
10:30 I have a call with Jason; he's my go-to for technical advice. He's seen it all before and nothing is ever too much trouble, so I really value his input.
We chat about a loan to a restaurant operator who is looking to buy the commercial property they're renting. Unfortunately, the valuation came back lower than expected, so we're unable to lend the full amount.
The pandemic has been incredibly frustrating for the hospitality industry, but I'm determined to find a solution.
Jason suggests the best way forward is for the client to meet the asking price but only pay a portion upfront and agree to pay the remainder over 12 or 18 months.
In these situations, the Reparo system really comes into its own. Jason is very experienced, so he'll always be able to suggest viable ideas and help me understand what questions the credit committee will have.
11:30 I have a quick call with Sharon about the planning permission of an asset that we're taking as security. She's in contact with the solicitors, so she fills me in on whether we're able to lend based on the security. She thinks we can, so I draft an email to the broker and explain the situation.
I love having direct access to the senior team at Reparo. Sharon always drives hard to find a solution, and I know she has access to great professionals so we can get a view on a deal really quickly. 
12:00 I make use of my wife's new bread maker for lunch. She's at home on furlough, so the two of us get to have an extra meal together. The menu is never the same, but bacon sandwiches are a house speciality.
13:00 Steve, our sales director, calls me to talk about LinkedIn marketing. We're always considering different ways to develop our brand and help the broker community connect with us. We decide to push out more content on LinkedIn and also look at some PR angles. Steve, Jason and I will wrap it up on our weekly Friday call.
14:30 I look into restructuring a deal for a commercial landlord who has a portfolio of properties financed through a range of different lenders. The monthly repayments are high, so I assess how we can consolidate the debt into one payment—a move that could potentially ease up the company's cash flow and create some breathing room.
We're facing property valuation issues again, so I get back on the phone with Jason to try to understand how we can structure the deal. He has some good ideas, so I give the broker a call and he can run our suggestions by the client.
16:00 I take a Zoom call with local finance brokers. I remind them they can always pick up the phone and ask for help. They're used to dealing with larger lenders that don't communicate in the same way that we do, so I reiterate that it's my job to take the time to help. Most are working pretty hard on CBILS loans, but I stress that the schemes will be over soon and they need to be looking at Q1 2021.
17:00 I send out more chasers to a range of people so we can get deals moving. Waiting on documents is the worst part of the job, so I'm always trying to keep this ticking over.
17:15 I finish the day with a call to Steve to get his thoughts on an idea I've had for an article. He's got a good intuition about what our community want to read.
*
To discuss a loan between £25,000 and £1m, please get in touch with one of the team at contact@reparofinance.co.uk or 0161 451 5710.